I found both of these at a thrift store one day, and just loved the creepy covers:
What sold me on them was the fact that at least some of the action took place here in the Vancouver area, the investigators were RCMP officers, and the authors were local.
So, I started looking for more of them in the thrift stores, and purchased Cutthroat, Ripper, and Evil Eye as used books. After that I invested in new copies of the rest.
I must confess that I owned all of them up to and including Bed of Nails before I even started to read any of them.
I started with Headhunter, and worked my way through them in the order in which they were written.
I now own up to Hangman in hardcover. Of course Cutthroat and Ripper were never available in hardcover here in North America. I also own both the US and Canadian mass market covers of Death's Door, 1st and 2nd trade printings of Swastika, and trade paper of Kamikaze, and these newer printings of Headhunter and Ghoul: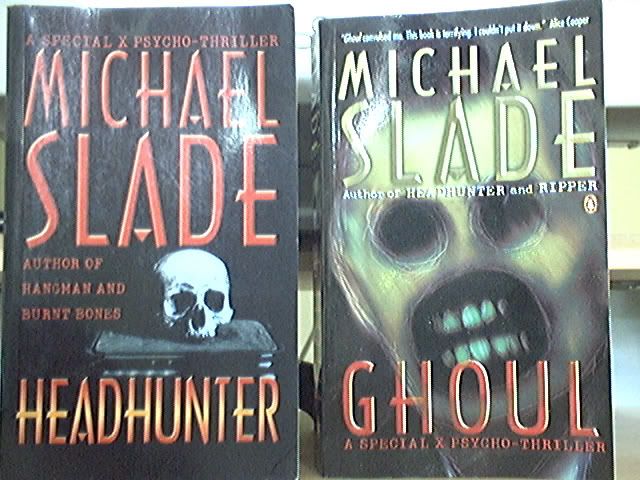 I continue to hunt for hardcovers of Death's Door, and Bed of Nails, and hold out a slim hope that I will run across the Allen printing of Headhunter one day.