Slade's Morgue:
Ghoul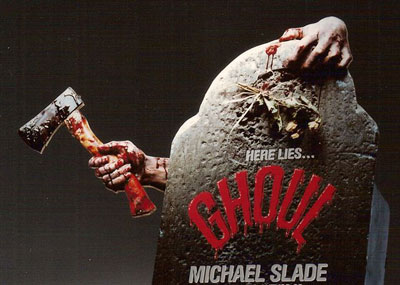 GHOUL is Michael Slade's rock-and-roll thriller. Here's the story behind it.
In 1954, the boom came down. Heavily influenced by psychiatrist Dr. Fredric Wertham's SEDUCTION OF THE INNOCENT ("I think Hitler was a beginner compared to the comic book industry."), a U.S. Congressional inquiry into the effect of horror comics on juvenile delinquency killed the 1950 to 1954 run of EC Comics' TALES FROM THE CRYPT, THE VAULT OF HORROR, and THE HAUNT OF FEAR. After that, EC concentrated on MAD magazine.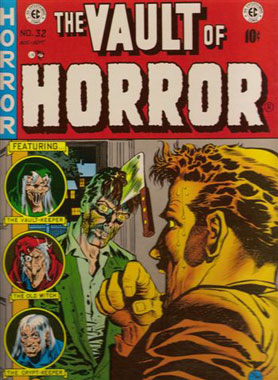 Slade was under ten years old when he got "seduced." A summer day found him walking several blocks to his best friend's. By then, comics were squeaky clean under the seal of the Comics Code Authority. In a driveway off the sidewalk, two teens were washing a car. The greaser wore jeans and a T-shirt with a pack of cigarettes rolled in the sleeve. His ponytailed girlfriend wore short-shorts with a bare midriff and a shirt tied under her breasts. As they soaped the car, the youth's mother came out of the garage. She was cleaning, with her hair wrapped in a bandanna.
"What do I do with your comics?" she asked her son.
A look of shock came over Sweet Little Sixteen's face. "You still read comics?"
No doubt fearing this could hamper what he had planned for the drive-in movie that night, the youth replied, "No way. Those have been there for years."
Then he spied an opportunity to prove his defense.
"Hey, kid," he said to the passing boy. "Want some comics?"
With his arms extended as far as they would stretch toward the ground, the stack of verboten, pre-Code comics reached up to Slade's chin. That was a magic summer in the crypt, the vault, the haunt of his family home, as the Crypt Keeper, the Vault Keeper, and the Old Witch - the wise-cracking GhouLunatics who served as horror hosts - introduced young Slade ("Welcome, boils and ghouls...") to EC's macabre pages. He devoured tales in which grim, ghastly, gruesome, ironic fates were meted out to ne'er-do-well villains.
In "Collection Complete," a wife kills, stuffs, and mounts her taxidermist husband for having killed and stuffed her cat. In "Bedtime Gory," a small-time rogue becomes a Big Man when his four-poster bed turns into a rack. In the notorious "Foul Play," the dismembered parts of a dirty player make up the equipment, bases, and baselines of his last ball game. His leg's the bat, and his head's the ball.
EC Comics are now classics. Dr. Wertham was incredibly narrow-minded. If primal fears are repressed, they warp and exhibit themselves as the symptoms of neurosis and psychosis. We must exercise our fantasy fears in order to exorcise them. Slade calls it "lancing the boil." Dr. Wertham and the censors didn't grasp Halloween: the human need dating back to prehistoric times to confront our darkest fears in tales of the macabre. Michael Slade sleeps like a baby. He rarely has nightmares. The reason why is catharsis. He writes his fears out on the page.
GHOUL is Slade's exorcism.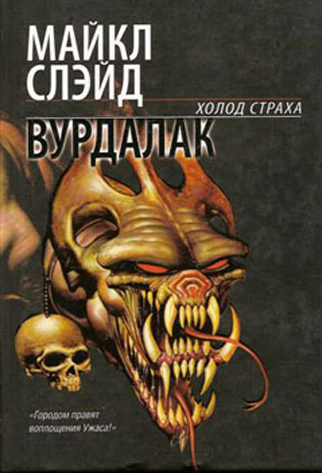 Russian edition of GHOUL.
"As alarming a piece of Gothic as I've read in many a black moon. GHOUL treads a perverted fantastic with droll skill." - The Times of London
"Bloodthirsty, scandalous, gory." - Publishers Weekly
"Would make de Sade wince." - Kirkus Reviews
"To put it bluntly, GHOUL is not for wimps." - Fangoria
"Slade is warped and I love it! GHOUL horrified all of us!" - Bruce Dickinson, Iron Maiden
The 1950s was a decade rampant with monsters. The atomic bomb unleashed a fallout of mutant creatures. The Universal Monsters of the 1930s - FRANKENSTEIN, DRACULA, THE MUMMY - were jolted to life on late night TV, and redone by Hammer Films with lots of bright red blood. Tracking it all was Forrest J. Ackerman's FAMOUS MONSTERS OF FILMLAND, a horror movie magazine launched in 1958 when publisher James Warren held up an invisible sign reading, "I am eleven years old, make me laugh." Slade was eleven years old and "Uncle Forry" did just that with the corny, punning captions he stuck on still photos of every monster that ever stalked theater screens.
The 1950s also spawned the Plainfield Ghoul. Slade considers Ed Gein to be the quintessential American psycho. Ed was a mama's boy who went nuts when she died. He preserved her bedroom as a shrine. What began with digging up female corpses soon turned to murder and cannibalism. His farmhouse of horrors was furnished with human body parts, and stuffed faces were mounted like hunting trophies on the walls. Gein flayed the skin from resurrected remains to fashion a "mammary vest" on a tailor's dummy. He wore the vest in the moonlight to fantasize he was Mom.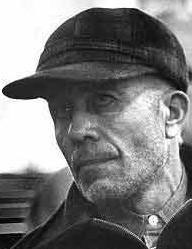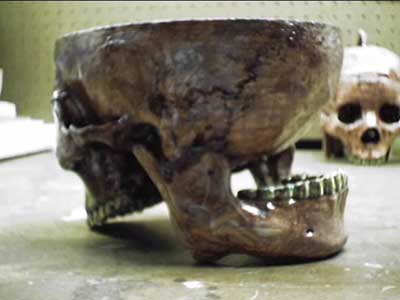 Gein's soup bowl
Robert Bloch fictionalized Ed Gein's mother fixation in his novel PSYCHO. Alfred Hitchcock filmed PSYCHO in 1960, which Slade saw at age thirteen. That same year, he read Stevenson's THE STRANGE CASE OF DR. JEKYLL AND MR. HYDE and TEN GREAT MYSTERIES BY EDGAR ALLAN POE in the high school library. The library was used as a noon hour detention hall as well as for reading, and as Slade sat engrossed in Poe's "The Telltale Heart," the meanest punk in the school sat down opposite him.
This was not good.
The punk's acne was so bad that his face rivaled a pizza. He was known to carry a switchblade. Once, when he was bored in class, he lit the hair of the kid in front of him on fire. Another time, he threw an eraser with a pin stuck through it at the neck of the math teacher as he wrote on the blackboard. The teacher was on crutches, with a broken leg. Threatened with expulsion if he was late again, he phoned in a bomb threat that cleared the school so he could finish his lunchtime pool game. His favorite pastime with Grade 7s like Slade was to "depant" them. That involved his gang stripping the victim below the waist so the barebottomed boy was forced to chase the taunting punk swinging his pants and shorts above his head past gaggles of giggling girls.
Come the library dismissal bell, the punk pulled a slip of silver paper out of his cigarette pack, scribbled something, and tossed it at Slade. Slade expected it to be the Black Spot from TREASURE ISLAND.
Instead, it read, "You want H.P. Lovecraft."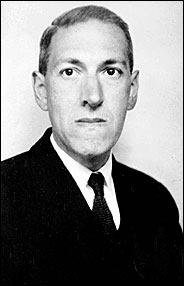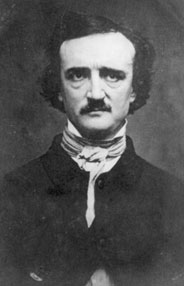 Lovecraft and Poe
The summer after that, Slade began 13 TOMBES. The following year, his mother took him to London. As soon as he mastered the Underground, Slade was off to the East End to hunt down Jack the Ripper's murder sites. That was before the Ripper became an industry. Mitre Square - where Catherine Eddowes was knifed on the night of the Double Event - was still Mitre Square. Donald McCormick's THE IDENTITY OF JACK THE RIPPER (1959) was the only recent book.
"Which one is Ripper's Corner?" Slade asked a Mitre Square merchant.
"There," the man said, pointing.
A passing bobby overheard the answer and challenged it. "No, it's that one."
Whereupon the two got into a heated argument that degenerated into comparing the Ripper credentials of each man's ancestors. (Today, Ripperologists are a dime a dozen, and nightly Ripper walking tours squabble over customers.)
The next day's trip to Scotland Yard to view the Black Museum resulted in young Slade getting the bum's rush. "If you were J. Edgar Hoover himself, you wouldn't get in," he was told. When that comment was repeated to relatives at Sunday dinner, Slade learned that his father's cousin's husband's father was high up in Special Branch. With enough notice, the next time he came to London, strings would get pulled.
Slade spent 1967's Summer of Love touring Europe. Seventeen countries, four months, on $425. EUROPE ON $5 A DAY was for aristocrats. His airline pass was free. Within hours of emerging from behind the Iron Curtain, Slade sent a letter to London. On arriving in England two months later, he was welcomed across the threshold of Scotland Yard.
No bum's rush this time.
The Black Museum displays evidence from the Yard's most famous cases. For example, from the 1940s, Slade saw the gallstones that didn't dissolve in the acid bath, sending George Haigh - the Vampire Killer - to the gallows; the whip that sexual sadist Neville Heath used on his victims, alongside photos of the skin marked with its crosshatched pattern; and the tobacco tin with four tufts of pubic hair that John Reginald Halliday Christie (the killer responsible for doing away with the gallows) kept as a fetish collection.
Here, from the Black Museum, is the letter that gave Jack the Ripper his iconic name.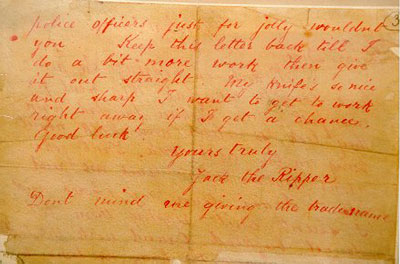 Slade's time in Paris was less rewarding. The infamous Le Theatre du Grand-Guignol (1894 to 1962) had closed five years earlier. He had to settle for a boat tour of the sewers, and the bone-filled Catacombs.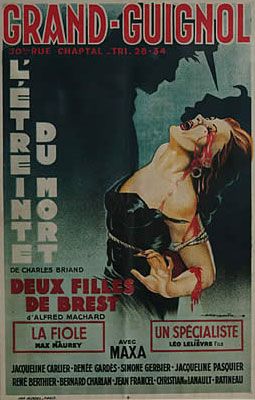 Grand guignol, however, was far from dead. As Slade came out of law school in 1971, intent on practicing criminal law with a focus on psycho killers, it burst onstage in a new, riveting, rock-and-roll incarnation.
Photo by Kevin Statham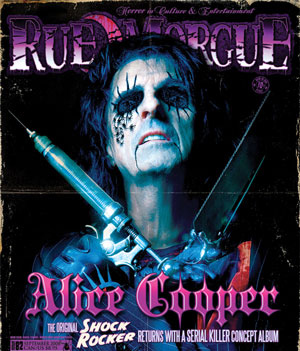 No one puts on a more ghoulishly entertaining rock concert than Alice Cooper. He is the King of Shock Rock, and the rest are followers. From the moment he steps onstage and begins his antics - the Electric Chair, the Gallows, the Guillotine - you're watching the ultimate grand guignol showman. The initial reaction to Cooper and his outrageous legends - "the Chicken Incident" - reminded Slade of the witch hunt spawned by EC horror comics. While watching Coop's maniacal brand of rock-and-roll, Slade got the idea for a novel about a rocker who goes insane.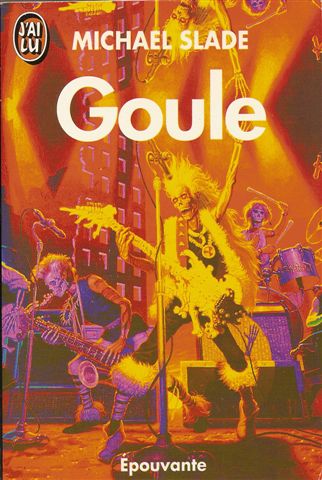 French edition of GHOUL
"At last, a bloody good thriller! It's one of the sickest to ever draw blood." - Kerrang!
"Disgustingly clever, revoltingly entertaining: top-drawer horror. Slade runs a three-ring circus of suspense, keeping the reader guessing until the truth is unveiled in a grisly, sensational climax." - Booklist
"Fiendish! Sufficient gore for a consortium of blood banks." - The Irish Press
"A heart stopper! The kind of roller coaster that fright fans can't wait to ride." - West Coast Review of Books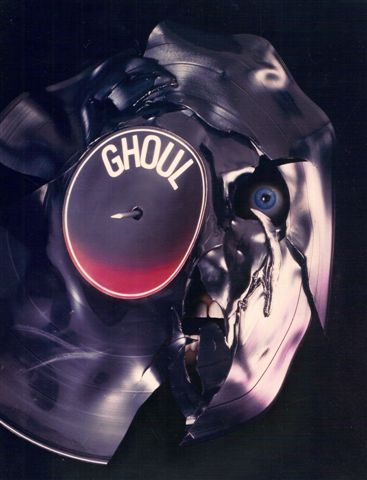 After a decade of defending and prosecuting murder trials, many with psycho killers, Slade wrote his first novel. HEADHUNTER was published in Britain in 1984, and in North America the following year. The first author to notice the book was Robert Bloch - "A real chiller. Beyond all doubt the most gruesome I have ever read!" - and that began a correspondence between the writers. Slade's first sentence thanked Bloch for the blurb. Bloch's reply: "What blurb? I meant every word of it."
Robert Bloch (1917 - 1994) was an important influence on Slade. PSYCHO - Hitchcock's film of Bloch's novel - focused Slade's interest on psychological whodunits in both his legal and writing careers. A psychotic break with reality is a defense to murder, and provides a shield to hide a fictional killer. As past president of the Mystery Writers of America, Bloch fused crime and horror. The titles of Bloch stories show his interests common with Slade: "Yours Truly, Jack the Ripper," "Lizzy Borden Took an Ax...," "The Skull of the Marquis de Sade," and "That Hell-Bound Train." Bloch contributed to THRILLER, the TV anthology hosted by Boris Karloff.
Bloch was also a direct link to H.P. Lovecraft. As a teenager hooked on WEIRD TALES in the 1930s, Bloch befriended the greatest horror writer of the 20th century. He was a member of the Lovecraft Circle. As the character "Robert Blake," he was killed off in the story Lovecraft dedicated to him: "The Haunter of the Dark."
It was Bloch who encouraged Slade to make his pilgrimage to Providence, Rhode Island.
Here, for a visual taste of Bob's gallows humor ("I have the heart of a small boy; I keep it in a jar on my desk.") is the close of a letter to Slade. Note the stationery.
You don't go from doing murder trials full-bore to living like a monk, telling yourself stories. Not if you're Slade. A con doing life imprisonment, who's given a typewriter by the warden, suffers that. For Slade, the fun in writing a novel is to live the story first. That's where you get your ideas: like the pair of binoculars in Scotland Yard's Black Museum that drive spring-loaded knives through the eye lenses to the back of your skull when you twist the focus button.
After HEADHUNTER's publication, a TV network flew Slade to London and New York to film a documentary on his creation. Madame Tussaud's Wax Museum kindly opened several murder scenes in the Chamber of Horrors so Slade could be filmed with Jack the Ripper and the Brides in the Bath psycho. The Sherlock Holmes Pub welcomed him into the recreation of 221B Baker Street on the upper floor.
Recalling his trip to Paris in 1967, Slade tacked on two side trips to research his second novel, GHOUL. There's a London under London, a sewer system as storied as that beneath Paris, and Thames Water gave Slade a tour of what would become the subterranean domain of the Sewer Killer. The defunct Le Theatre du Grand-Guignol reminded him of Gaston Leroux's French classic, THE PHANTOM OF THE OPERA, and the Phantom of the Royal Albert Hall allowed him to crawl through the air shafts that open off the Gents' toilet.
Sewers!
In New York, the Mystery Writers of America staged a launch party for HEADHUNTER, complete with a cake with candles topped by tiny severed dolls' heads. Then one of the MWAers put Slade in contact with two Lovecraft experts in Rhode Island, and he flew off to Providence to make his pilgrimage. The first place he sought out was 454 Angell Street, the site of Lovecraft's first house. While Slade was standing on the northwest corner, an old woman using a walker chanced by. She guessed what the look on his face meant, for she stopped and said, "I knew him, you know."
"Lovecraft? What was he like?"
"A strange man," she said with a smile.
454 Angell Street
(demolished 1961)
H.P. Lovecraft (1890 - 1937) was indeed strange. When he was eight, his father died of syphilis in a mental institution. His mother transferred her resentment to her sickly son. She repeatedly told him he was ugly, and to cure his fear of the dark, dragged him around the unlighted house at night. When he was eighteen, Lovecraft suffered a nervous breakdown. In 1919, his mother was sent to the same asylum in which his father had died. She died two years later. Throughout his life, Lovecraft was a night walker. He roamed Providence after dark. During the day, he drew the blinds and sat writing his weird tales by candlelight, and corresponding with the Lovecraft Circle (fans like Bloch).
Of all the original horrors created in the 20th century, none was more influential than Lovecraft's Cthulhu Mythos. The earth, according to the Mythos, was once ruled by hideous monsters from space called the Great Old Ones. By practicing black magic, they were expelled by cosmic forces to another dimension. Great Cthulhu himself lies sleeping in Atlantis-like R'lyeh deep beneath the sea. Through telepathic projection, their legend lives on. The monsters are worshiped by ghoulish cults obsessed with their return. The key lies in rituals and incantations in THE NECRONOMICON, written by the mad Arab, Abdul Alhazred.
Why the Cthulhu Mythos hooked the collective imagination of the horror genre is open to debate. It represents the primal struggle between good and evil, and parallels Satan's expulsion from Eden and desire to regain control. Freudians, however, offer a kinkier theory.
Undeniably, Lovecraft had mother issues. His short marriage failed. He endured his life in poverty, and saw his work published solely in pulp magazines, notably WEIRD TALES. So prissy was his view of sex that when the magazines arrived with half-naked women in jeopardy on the covers, he tore off the smut and kept just the stories inside. Freudians point out that the face of Great Cthulhu resembles a woman's sexual parts. Which no doubt accounts for the fearful fascination Cthulhu holds over the genre, ha, ha.
You decide.
"Cthulhu Statuette" by
Alan M. Clark
Whatever the reason for the red hook, every horror writer worth his/her salt takes a stab at adding a story to the Cthulhu Mythos. GHOUL is Slade's...with a twist.
The guides recommended by the MWAer gave Slade the grand tour of Lovecraft's Providence. The "Shunned House" on Benefit Street. The "Charles Dexter Ward House" on Prospect. The Fleur-de-Lys Building in "The Call of Cthulhu." The Art Club in "Pickman's Model." And, near the Brown University campus, the site of "Robert Blake's Home" in "The Haunter of the Dark." That night, the tour ended in St. John's Churchyard.
Near the end of his life, Edgar Allan Poe came to Providence to court poet Sarah Helen Whitman. Her home was at 88 Benefit Street, overlooking St. John's Churchyard. Poe haunted the graveyard, while waiting for her. She spurned him because of his drinking, and a year or so later, he was found delirious in a Baltimore gutter, and died. Drawn by the Poe connection, Lovecraft haunted the same graveyard after dark. So that's why one of Slade's guides led him down the steps and terraces to St. John's Churchyard, and left him sitting on a tombstone in the full moonlight. Inspired by the thrilling knowledge that his butt sat where Lovecraft's butt had sat and Poe's butt had sat before them, Slade spent the night with pen and paper plotting GHOUL in the moon shadows.
Since then, whenever someone tells Slade he or she liked GHOUL, his reply is, "I can't take credit. That plot was ghostwritten." Ha, ha.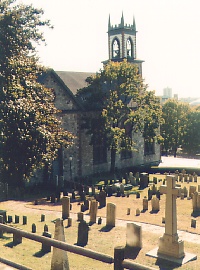 St. John's Churchyard
Slade was into writing GHOUL when he got a jolt. A newspaper reporter asked Alice Cooper what he was currently reading, to which the rocker replied, "A book called HEADHUNTER. It's really good." That comment led to an offer of two tickets and a backstage pass to meet the King of Shock Rock if Slade would travel to Seattle, a three hour drive.
A young publisher's rep had sold an astonishing number of copies of HEADHUNTER into local stores. Slade figured he deserved a perk. Excitement was his response to the offer to ride shotgun. "Stick with me, kid," Slade replied, "and you'll wear diamonds."
Come the afternoon of the trek south, the Pacific Northwest was undergoing a deluge. One of those days when the rain bounces a foot off the pavement, and the windshield wipers can't keep up. By the time Slade's car arrived at the concert stadium, the close parking spaces were gone and the warm-up act was booming. That's when Slade discovered that in all the excitement, he had neglected to bring that essential accessory of every Vancouverite: an umbrella.
Eventually, the drowned rats reached the stadium's Will Call booth. "Do you have tickets and a backstage pass for Michael Slade?" Slade asked.
"Yes," said the woman behind the glass. "May I see some ID?"
Slade slipped his driver's license through the metal grill.
"This says you're Jay Clarke, not Michael Slade."
Uh-oh. One doesn't think of moments like this when one decides to write under a pen name. So Slade fell back on that dependable ploy of every lawyer. He tried to bluff it by adapting writer Ross Macdonald's quip about his fictional PI, Lew Archer.
"Madam, I may not be Slade, but Slade is me."
"What the hell does that mean?"
Uh-oh. Hard as nails, with no sense of humor.
"It means there is no Michael Slade."
"Then why does he have tickets?"
"Because I'm Michael Slade."
"Have you any idea how many people we get who say they're Michael Jackson?" (An indication of how old this story is.)
That's when Slade lost it and banged his palm on the glass. "Look, lady, will you give me the damn tickets!"
She turned to her booth partner and said, "Mildred, call Security. We've got a live one here."
The imminent probability of two goons moonlighting from their other job as linebackers for the Seattle Seahawks grabbing them in headlocks motivated the publisher's rep to ask, "Is this what you mean by diamonds?"
The greatest benefit of being a lawyer is that when you threaten to sue, people take you seriously. So there was Slade holding his business card up to the glass, asking, "Have you any idea what the lawsuit damages will be if you keep a diehard Alice Cooper fan from meeting his idol?"
That stopped them in their tracks. American juries have been known to make some outrageously high lawsuit awards. What would the damages be for such a wrong? Surely in the millions.
So, Mildred called backstage - just to make sure - and it got sorted out.
What's it like to meet Alice Cooper? There's a funny scene in WAYNE'S WORLD in which Mike Myers (another Canadian) and Dana Carvey do just that. They throw themselves, bowing and scraping, to the floor and wail, "We're not worthy! We're not worthy!" Well, it's a lot like that. Meeting the President of the United States would pale in comparison. If you wish, you can imagine Alice sitting on a throne of bones at the back of his tour bus, the boa constrictor writhing around his shoulders, the post-concert makeup streaked down his face, gnawing raw meat off a bone.
Actually, in the flesh, he's a funny, witty guy. It was Cooper who suggested Slade should refer to his alter ego in the third person. It's a Jekyll & Hyde thing that keeps you sane.
Here's a photo of Slade's second meeting with Alice. The fellow on the left is Steve Newton, a rock journalist who coined the term "Sladists" to describe Slade's fans. The fellow in the center seems none too sure of the sanity of the fellow on the right.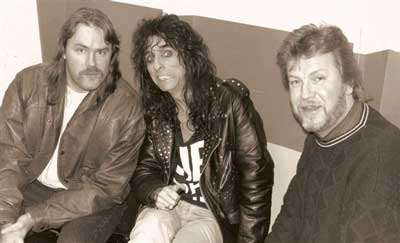 Dressed in a cape and top hat, with a bone white face and madman's eyes, the Ghoul crawls from the London sewers to kill - bloodily, perversely, inexplicably. In Vancouver, the horror rock group Ghoul cavort onstage, their act a bizarre and violent front. But, for what? Drugs? Snuff films? Dirty money? Contract killings? Inspector Zinc Chandler of Special X thinks he knows. Is there a connection between London's orgy of killings and Vancouver's underworld sleaze? The answer could lie in the dark obsessions and twisted fantasies of an old Rhode Island family whose tainted past will not lie quiet in its grave.
"Reading Michael Slade is like taking an advanced course in Psycho Horror. HEADHUNTER stunned me. GHOUL convulsed me. This book is terrifying. I couldn't put it down." - Alice Cooper
"GHOUL almost finished me. Total wipeout. It will raise hackles, eyebrows, and blood pressure everywhere. Here's a book that gives you real shock value for the money. What particularly interested me as a fellow-fabricator is the expanded source of inspiration. Like Steve King, Slade's been influenced by comic books and rock groups as well as horror films, but in addition, as a criminal lawyer, he makes use of psychopathology, forensics, and computer technology. It's quite a performance, and I salute him." - Robert Bloch
"Master of horror Michael Slade is a cold-blooded writer. GHOUL is a twisted whodunit!" - The Toronto Sun
"Horror fiction isn't pretty. At least it shouldn't be. It should grab readers by the nerve endings with whatever images are needed to scare the living bejeezus out of them. Nobody knows this better than Michael Slade." - The Georgia Straight
"This novel lives up to its title." - Express News, San Antonio, Texas
"One of the most vicious books written in recent years. The tale starts in the past when an initiation into a gang goes very wrong. GHOUL delves into the criminal mind far past limits usually expected." - Star-Banner, Ocala, Florida
"GHOUL is well crafted, by writers who have read the classics: H.P. Lovecraft and Edgar Allan Poe. The chilling description of a boy buried alive in a graveyard, his mind slowly withering and vanishing, starts the book, and should grab the attention of all but the most jaded reader." - A past president of the Ontario Secondary School Teachers' Federation in The Evening Standard, Welland, Ontario.
"What an interesting novel! I haven't seen one that combines a vast array of facts a la a police procedural and elements of the supernatural in quite the same way." - Playboy
"The monsters and freaks play out their parts against a background that is made as concrete as possible. The fascination of GHOUL lies in its constant blurring of the line between the solid, real world and that inhabited by horror and fantasy." - The Province, British Columbia
"Rhode Island readers will find Lovecraft's role in the novel and the passages set on the East Side of Providence especially interesting. GHOUL is not for the squeamish. The author chose the Great Swamp for one of the book's many grisly scenes. The assistant resource manager at the Swamp still remembers the day several years ago when Michael Slade turned up for a tour. 'I spent probably an hour or two out there with him. He was really entranced by it.'" - The Narragansett Times, Rhode Island
GHOUL was published in Britain in 1987, and in North America the following year. In 1996, the Horror Writers Association surveyed its general membership to compile a top forty "best of" dark fiction list. Arranged alphabetically by author, here are some of the books:
† Best Ghost Stories of Algernon Blackwood


† The Exorcist by William Peter Blatty


† Something Wicked This Way Comes by Ray Bradbury


† The Haunting of Hill House by Shirley Jackson


† Turn of the Screw by Henry James


† The Ghost Stories of M.R. James


† The Metamorphosis and Other Stories by Franz Kafka


† The Shining by Stephen King


† The Stand by Stephen King


† Rosemary's Baby by Ira Levin


† The Dunwich Horror and Others by H.P. Lovecraft


† At the Mountains of Madness by H.P. Lovecraft


† Tales of Horror and the Supernatural by Arthur Machen


† I Am Legend by Richard Matheson


† Frankenstein by Mary Shelley


† Ghoul by Michael Slade


† The Strange Case of Dr. Jekyll and Mr. Hyde by Robert Louis Stevenson


† Dracula by Bram Stoker


THE A TO Z ENCYCLOPEDIA OF SERIAL KILLERS by Harold Schechter, Ph.D, a professor of American literature and culture at Queens College, the City University of New York, and David Everitt is a compendium on psychos. For "the best serial killer novels," they selected Robert Bloch's PSYCHO and AMERICAN GOTHIC, Thomas Harris's RED DRAGON and THE SILENCE OF THE LAMBS, Jim Thompson's THE KILLER INSIDE ME, Joyce Carol Oates's ZOMBIE, and Michael Slade's GHOUL.
In 2001, Slade was a guest of honor at the World Horror Convention in Seattle, Washington. Two years later, the WHC announced that Forrest J. Ackerman would be its special guest! So Slade packed his pile of FAMOUS MONSTERS OF FILMLAND into a suitcase for a time machine trip back to the late 1950s, and flew to Kansas City, Missouri.
The boy in this photo with "Uncle Forry" isn't Slade. But he could be.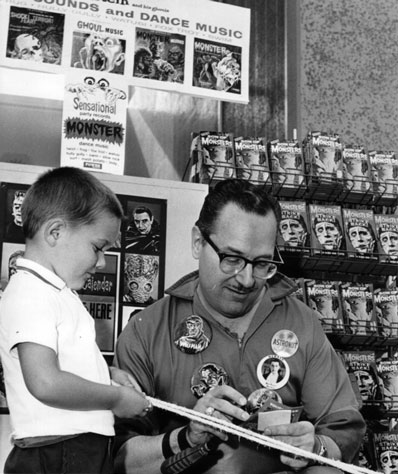 Courtesy of Joe Moe
He was pushing ninety and in poor health, so it was uncertain whether Ackerman (1916 - 2008) would make it to the Con. But he did. The "Ackermonster" was such a huge influence on horror that it took a while before Slade could catch him alone. As TIME puts it:
To many fan-dults of a certain age, Forry is revered for FAMOUS MONSTERS. Its first issue came out in February 1958; it lasted nearly 30 years. The first serious (but never solemn) magazine devoted to horror and science fiction movies, FM included appreciations of old and new films, interviews with the genre's actors, directors, writers and special-effects men, all informed by the ripe musings and unabashed enthusiasm of its editor. The photos often came from Ackerman's archive; his collection was likely the world's largest in its category. In the '80s and '90s, his "Acker-mansion"...became a museum and a shrine - Mecca for fan-fans...On the way out you sign a guest book and notice the signatures of early visitors: Stephen King, Steven Spielberg, Ray Bradbury, Ray Harryhausen, John Landis, Tobe Hooper, George Lucas...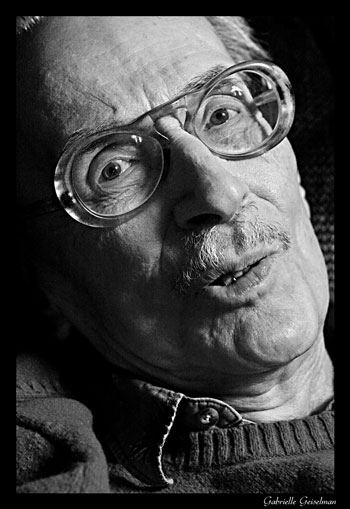 Photo by
Gabrielle Geiselman
, courtesy of
Rue Morgue Magazine
"Hello, Uncle Forry. My name is Michael Slade. I've flown here from British Columbia to thank you for all the -"
"So you're the one who put FAMOUS MONSTERS on the first page of GHOUL?"
"Guilty," Slade pleaded.
"FM set off a lot of mayhem, didn't it?"
"Indeed, it did."
By the 1980s, when GHOUL was written, the witch hunters were back in force. This time, the devil they were out to burn at the stake wasn't horror comics, it was Heavy Metal rock-and-roll. You know the allegations. Charles Manson found his vision for the end of the world in the Beatles' "Helter Skelter" off the WHITE ALBUM. He sent his Family out to kill Sharon Tate and six others. Richard Ramirez - the Night Stalker - was obsessed with AC/DC's "Night Prowler" off HIGHWAY TO HELL. He went on a year-long murder spree that claimed as many as sixteen victims. The fourteen-year-old killer who thought he was possessed by Eddie, a name borrowed from the mascot of Iron Maiden. The Rolling Stones' "Sympathy For the Devil" and the death at Altamont. The suicides allegedly sparked by Ozzy Osbourne's "Suicide Solution" and an album by Judas Priest. You'll find several more in the Afterword at the end of GHOUL.
To work, a horror story must jab a psychological pressure point in readers. In GHOUL, the psycho is influenced by all the influences on Slade and goes stark raving nuts. The pros and cons of Why? are set out for you to decide. As Alice Cooper ghoulishly joked, "I was afraid I was going to turn out to be the killer."
Slade's discussion with Uncle Forry was a black humored dissection of witch hunters' hang-ups. Before it was rock, it was comics; before it was comics, it was movies; before it was movies, it was books; and before that, it was probably spooky tales told around cavemen's fires. Films were Ackerman's focus, and he educated Slade on what Hays Code censors had done to the 1932 Fredric March version of DR. JEKYLL AND MR. HYDE. As a result, Slade recently watched the restored uncut original, and that planted the germ of a novel (not yet written) in his mind.
So thanks again, Uncle Forry.
"Would you sign my FAMOUS MONSTERS?" Slade asked Ackerman.
"Gladly."
Slade withdrew an issue from the stack in his carryall. Ackerman's hand was so shaky that it seemed to take forever while he struggled to sign his name. He'd have signed them all - Forry was the fan's fan - but Slade took the rest of the stack home unautographed.
One Acker-signature is more than enough.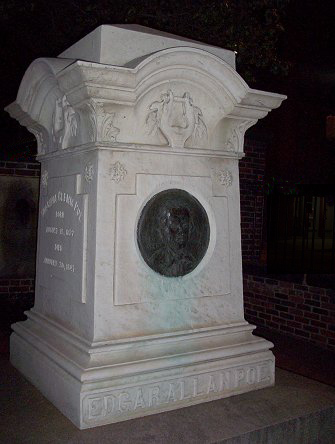 Back in 1985, Slade came out of a bookstore and ran into a supreme court judge. "I just finished HEADHUNTER, counsel, and one scene made me freeze. I had to ask my wife to pick out any plot points, then mask the passage with a piece of paper so I could go on reading."
What a wimp, thought Slade. "Lots of people have a thing about sharp instruments, judge."
The judge scowled and gave Slade a jaundiced eye. "What do you think I am? A wimp? I see the same hamburger shots in murder trials that you do. I'm talking about the part where the cop's squirming down the tunnel into the bomb shelter, and he gets stuck in the dark on a downward slant with his arms extended over his head and rats nibbling his fingers."
That's why GHOUL begins with a premature burial. Claustrophobia freaks more people out than sharp-edged wet work. The burial scene was written specifically for that judge.
In 2004, Slade was asked to be a writer guest at Baltimore's HorrorFind. Billed as the Spookiest Show on Earth, it's a giant convention that brings in movie celebrities, like all the nameless zombies in 1968's NIGHT OF THE LIVING DEAD. Slade jumped at the invitation, which offered side perks. Poe's hometown wasn't Providence. It was Baltimore, Maryland. So here was the opportunity for Slade to make a pilgrimage to Poe House at 203 Amity Street, and Poe's Grave in the Westminster Burying Ground.
Poe - like the judge - was terrified of premature burial: the worst form of claustrophobia. He lived in a time when it wasn't uncommon for death to be pronounced on a wretch who wasn't actually dead. Graves were designed with bell pulls to the surface that could be rung if the buried-alive came back to consciousness. Poe wrote "The Premature Burial" about that horror.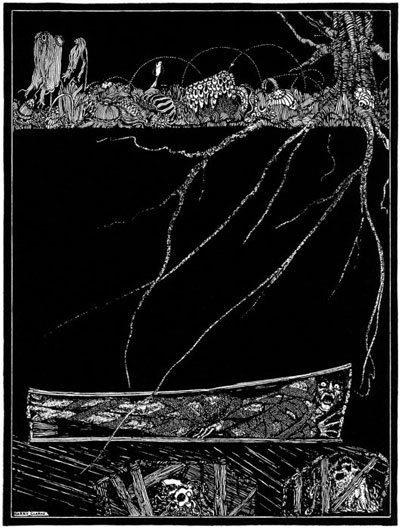 One of Bob Bloch's additions to Lovecraft's Cthulhu Mythos was the text CULTES DES GOULES. Ghoul is the name of the rock band in GHOUL, and the Ghouls is the name of the gang involved in the premature burial. Slade thought it might be spooky to form a Cult of Ghouls within the Sladists, and have those Ghouls join him for a reading of several classic horror stories at Poe's Grave at midnight on Friday the 13th. So the Call of Cthulhu went out through the Forum on this Website.
When word got out of what Slade had planned, a fellow writer emailed him: "Are you crazy! That part of town is Crack City at night!" One of the Sladists coming was eight months pregnant. Slade had a vision of crackheads by the hundreds shambling into the graveyard like the zombies in NIGHT OF THE LIVING DEAD, while the mother-to-be miscarried and the Ghouls around her shrieked, "I wish I'd never heard of Slade!"...and then the monsters finished him off like the ballplayer at the midnight game in EC's "Foul Play."
However, the Second Amendment provided a bodyguard licensed to shoot silver bullets, and the black sabbath was on.
The Westminster Burying Ground is locked at night. That's why - since 1949 - a mysterious stranger has been able to leave a single rose and a glass of brandy on Poe's Grave every January 19th, his birthday. At a quarter to midnight, the crypt keeper at Poe's Grave unlocked the gate for the Ghouls, as he had done for two others - Robert Bloch and Vincent Price - in the past. Incantations from THE NECRONOMICON and CULTES DES GOULES were chanted, and midnight saw the cultists conjure up one of the Great Old Ones.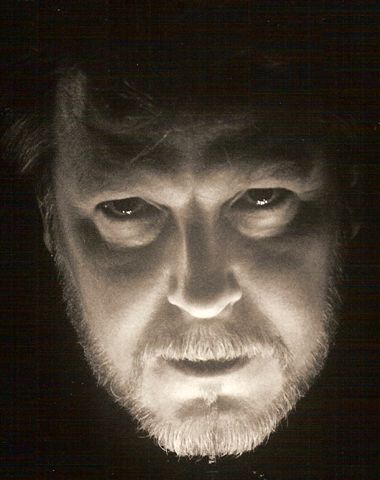 It's rumored the Ghouls (new members welcome) are seeking somewhere else meaningful to gather, so don't be alarmed if, in the near future, you hear demonic chanting coming from the Witchy Path in Winnipeg, Manitoba, or St. John's Churchyard in Providence, Rhode Island.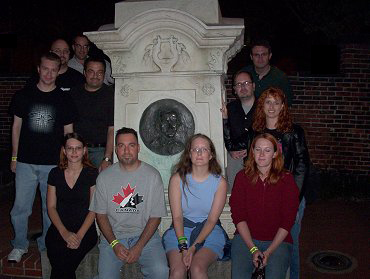 In November 2008, a friend at Golden Age Collectables called to ask if Slade would like to have dinner with Al Feldstein.
Al Feldstein!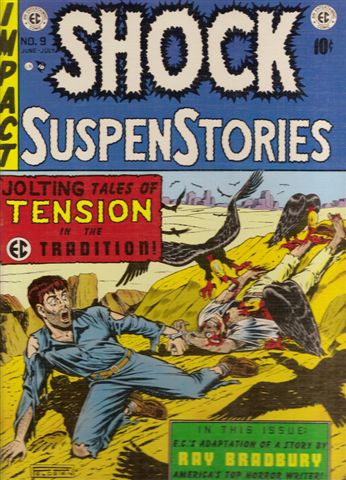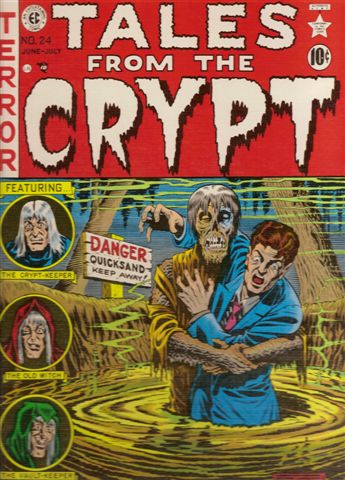 Two Feldstein Covers
Would Slade like to have dinner with Al Feldstein?
"You bet!"
Born in 1925, Al Feldstein was a groundbreaker. He created, wrote, illustrated, and edited EC Comics. His first job in comics was to ink the spots on SHEENA, QUEEN OF THE JUNGLE's leopardskin. During the EC years, he produced seven complete magazines every two months, including TALES FROM THE CRYPT, THE VAULT OF HORROR, and THE HAUNT OF FEAR. After the censors' ax fell in 1954, he spent twenty-nine years at the helm of MAD magazine, and took it to the top as America's leading humor-satire publication. He introduced "Spy vs. Spy" and adopted MAD's trademark: freckle-faced, grinning Alfred E. Neuman. During his career, he stood up to powerful censors in the U.S. Congress, the judiciary, and J. Edgar Hoover himself!
The 1950s were perilous for free thinkers. McCarthyism and the Hollywood Blacklist ruined creative careers and drove some of the witch-hunted to suicide. The Comics Code Authority brainwashed "Innocents'" minds with ridiculous rules like: in every instance, good shall triumph over evil, and the criminal shall be punished for his misdeeds; no comic shall use the word "horror" or "terror" in its title; all lurid, unsavory, and gruesome illustrations shall be eliminated; inclusion of stories dealing with evil shall be published only where the intent is to illustrate a moral issue, and in no case shall evil be presented so as to injure the sensibilities of the reader; crime shall never be presented in such a way as to produce distrust of the forces of law and justice; scenes dealing with the walking dead, vampires, ghouls, cannibalism, and werewolfism are prohibited; words which have acquired undesirable meaning are forbidden; females shall be drawn realistically without exaggeration of any physical qualities; seduction shall never be shown or suggested, etc.
Slade would have been caught by that puritanical butterfly net and his imagination caged if not for a lucky question asked by a youth washing a car: "Hey, kid. Want some comics?" Instead, during that magic summer of unfettered enjoyment in the basement crypt of Slade's home, EC Comics taught him three fundamental rights:
Don't let anyone tell you what you can and cannot read.
Don't let anyone tell you what you can and cannot think.
Don't let anyone tell you what you can and cannot write.
Decades later, when Slade's daughter was that same age, he bought her reprints of the complete run of TALES FROM THE CRYPT, THE VAULT OF HORROR, and THE HAUNT OF FEAR.
And guess what?
She devoured them as voraciously as he had.
A steakhouse can't be said to be a great steakhouse until a mobster gets whacked outside. In New York City, it's Sparks Steak House on 46th Street, where crime boss "Big Paul" Castellano and mobster Thomas Bilotti were gunned down in 1985 on the orders of John Gotti. When Slade was in New York, his editor took him to Sparks.
In Vancouver (What, you think it's a town of hicks that doesn't have murderous mobsters?), it's Gotham Steakhouse on Seymour. That's where hitman-for-hire Ricardo Scarpino and another guy got whacked outside on January 20, 2008, by a pair of thugs dressed in black, who then dumped their guns at Holy Rosary Cathedral.
On an overcast night in November - and this time, he remembered his umbrella - Slade and his daughter walked into Gotham Steakhouse to ride the time machine back to the mid-1950s and bring "the story behind the story" of GHOUL full circle from EC Comics to Al Feldstein. So many questions tumbled around in Slade's mind. There's an in-joke in ZOMBIE/EVIL EYE. The funeral home is called Davis, Craig, and Ingels. So what were Jack Davis (the main artist of TALES), Johnny Craig (the main artist of VAULT), and "Ghastly" Graham Ingels (the main artist of HAUNT) like in person? And what happened the day that FBI agents came knocking on MAD's door...
A bolt of lightning galvanized the Frankenstein Monster to life. Slade's first twitches came from a jolt of EC current. Slade - and those who read him - owe this fellow a lot!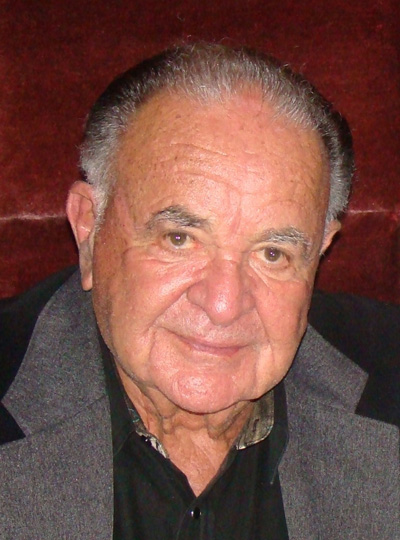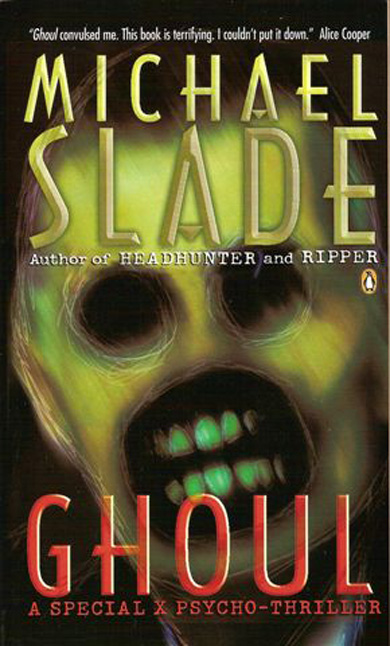 Canadian edition of GHOUL.
Signed copies